Thriller Speedboat Ticked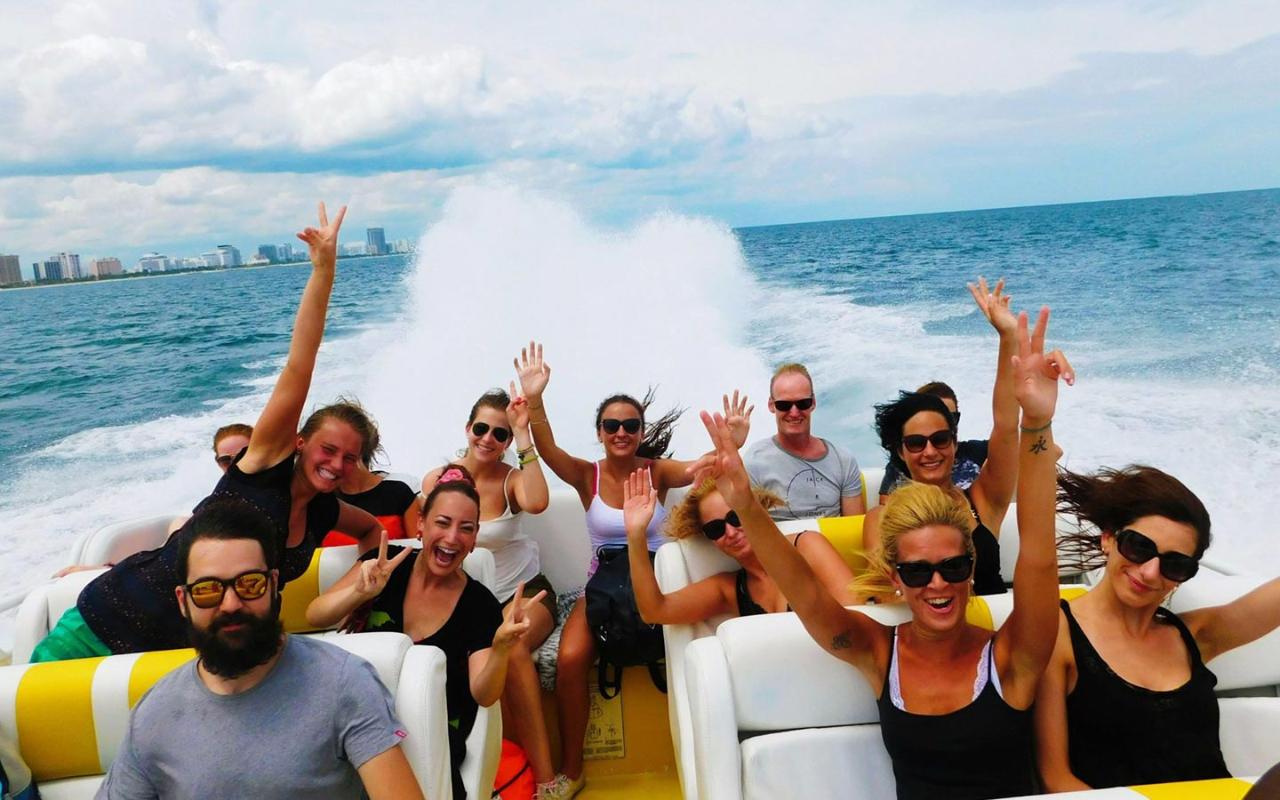 Duration: 5 Hours
Product code: P81CDK
45 MINUTE TOURS ABOARD THRILLER MIAMI SPEEDBOATS:
Ride Miami's only boat that provides sightseeing + attraction altogether, and the only tour boat in the city that takes you out to the ocean to speed along South Beach!
During our 45-minute off-shore Speedboat tour, we provide an ultimate sightseeing experience of Biscayne Bay, South Beach, Fisher Island, and the Miami Gold Coast. Be ready to take pictures of the beautiful Downtown Miami Skyline.
The daily 45 minute Tours depart every hour from 11:00 am until sunset on weekdays and every half hour on weekends and holidays.
ALL PARTICIPANTS MUST CHECK-IN AT OUR COUNTER 30 MINUTES PRIOR TO YOUR TOUR DEPARTURE TIME. LATE/ NO CALL/ NO SHOWS WILL NOT BE REFUNDED.
Waiver must be signed online prior to arriving at the marina for check-in.
To ensure a safe ride, the captain will take the sea conditions into consideration before going into the Atlantic Ocean and/or reaching speeds of 40 mph.
PRICING

Adults (12+): $38.00 + $2 City Surcharge (Sales tax included)
Children (3-11): $29.00 + $1 City Surcharge (Sales tax included)
The Thriller Miami Speedboat Tour departs from Bayside Marketplace in Downtown Miami, Florida. The tour provides the ultimate sightseeing experience in true "Miami Vice Style". See celebrity mansions on Star Island, Fisher Island, Miami Beach and see the Art Deco district of South Beach from Thriller's unique perspective in the Atlantic Ocean. We are the only tour boat that can give you an off-shore experience, covering three times the Miami area as compared to other tour vessels.
Daily Tours
From 11am until Sunset, every hour during the weekdays, and every ½ hour during weekends and holidays.
Speedboat Tour Information
• The Thriller departs from the easy-to-locate Bayside Marketplace.
• Cruise along the Miami Coastline aboard Thriller Miami Speedboats.
• Capture panoramic views of Miami from the plush seating in comfort and safety.
• See the homes of the rich and famous on Star Island.
• See the spectacular Miami's skyline.
• Don't forget to bring your camera for unforgettable photo opportunities of Miami!
Thriller Speedboat Tour Departure Location
401 Biscayne Boulevard Miami, FL 33132
Located within Bayside Marketplace, just east of the band stage.
All the times are subject to change during the Spring, Summer & Fall seasons. Please contact our reservations desk for our last trip out.